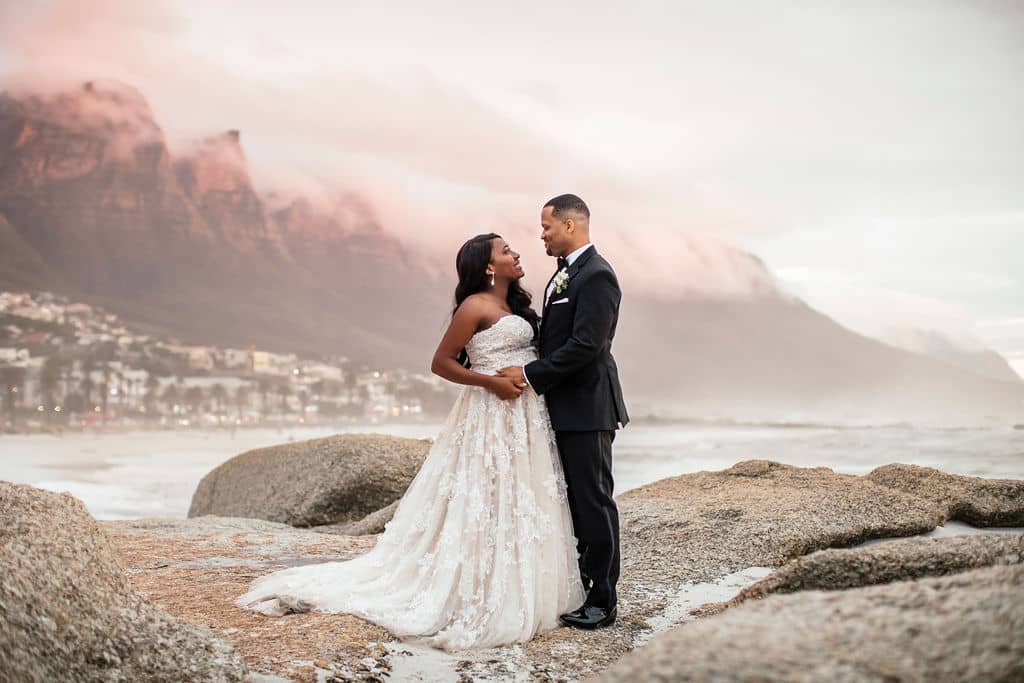 Cape Town is the most beautiful city in the world, why would you not want to get married here? We do South African Wedding the right way!
Okay okay, so I may be a bit biased… I was born and raised here and I love it!


Some Beautiful Cape Town Wedding Photos:

A few things you should know about getting married in Cape Town, South Africa:
Cape Town Weather:
Cape Town can have 4 seasons in one day, however our summers are usually warm and dry. Summer in Cape Town is super popular for weddings, so it's never too early to start planning. If you're spending a few weeks in Cape Town before your Wedding day, you'll need to take precautions with sun protection – SPF30 all the way! And if I can give you any advice… Ladies – NO strap tans! And gentlemen… NO sunglasses tans!
Cape Town Wedding Venues:
Whether you are dreaming of a beach wedding, a bush wedding or a wedding in the winelands – you've come to the right place. Cape Town honestly has everything. We have some of the most gorgeous beaches in the world. Out West Coast stretch is just stunning. We have some lovely game farms, and if you're really wanting to see our wildlife, then I can put you in touch with the best of the best in the Kruger National Park. If you want to see our Big 5, then this is the place to be. Our winelands are also spectacular and something special that you need to see with your own eyes. Capetonians can proudly boast about their wine, so if you're from out of town, you'll be pleasantly surprised!
Cape Town Wedding Service Providers:
Ok, so again I sound biased here, but I'm telling you the truth. The suppliers that I work with are proud to do what they do. I firmly believe that you should love what you do for a living, so when I go in search for providers for my clients weddings, I go with this value in mind. We have some outstanding photographers, décor specialists, cake designers and dress makers. And we work closely with Boutique Travel Experts for Southern Africa who can assist with individual pre and post wedding travel arrangements for your wedding guests – and your honeymoon, of course. The list goes on and on!
Cape Town Wedding Cuisine:
My mom is Italian, so I grew up around lots of yummy food. I was spoilt for choice! Even now, I go into a restaurant or café and taste their scones or cake, and I'm like "no, this is not that great, my Mom's are waaaay better"! The food you serve to your guests is so important. Never underestimate a hungry wedding guest, they are not happy people!
Cape Town – The City:
From our majestic Table Mountain to our beautiful beaches. Our grape filled vines to the perfect glass of Pinotage, and for our diverse culture. Cape Town offers every person something different. Here I go again with my boasting, but we really do live in the most beautiful city in the world. But don't take my word for it, come see for yourself.

"It was overwhelming not knowing too much about the city as we live abroad, but from our first meeting with Cara over skype, we knew right away that she was the one. Her pricing was extremely competitive as compared to competitors and offered outstanding value for her fee. No amount of money could buy the stress free day I had! Cara has exquisite taste and she directed us to the best vendors that offered us the best value – an asset to couples from overseas that are missing this information. She knows who is trustworthy, has good service, is cost effective etc." – Tobi & Kurt, Bermuda
Cape Town Luxury Wedding Package:
I've designed the Cape Town Luxury Wedding Package specifically with Overseas / Out of Town Couples in mind. If you wanting a wedding in South Africa, this is the package for you. That said, if your dream is to be married in Cape Town, whether you live here or not – I'd love to work with you. If you do happen to be from out of town, I will not only help to plan your Wedding Day but your entire itinerary, while helping you to experience and enjoy the beauty our city and country has to offer.
Let's Skype or Zoom (or have a coffee if you're a fellow Capetonian) to discuss your day
If you think the Cape Town Luxury Wedding Day Package is for you, then I'd love to make contact and chat YOUR Wedding!