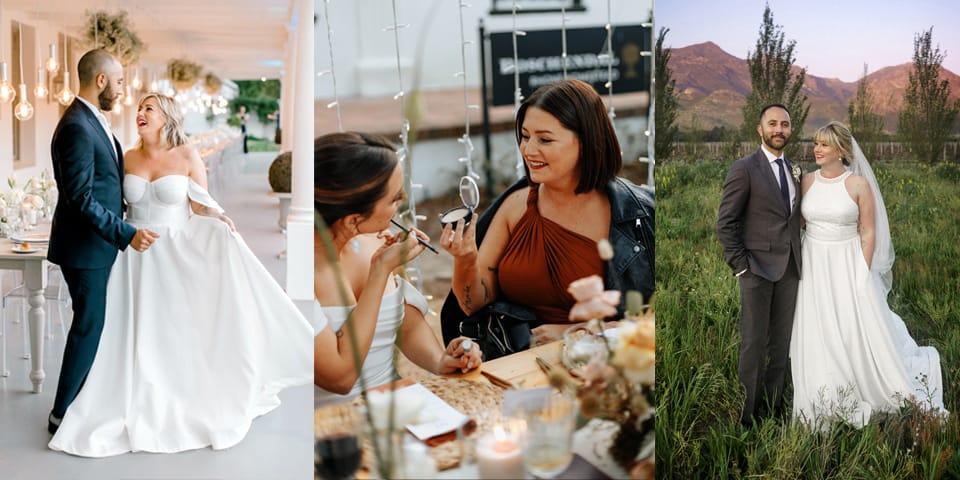 Basically, I love weddings! I think coming from a wedding planner, that is a given. My wedding was actually supposed to happen on April 25th 2020, but we had to postpone it due to the COVID-19 pandemic. Andy & I decided that we didn't want 2020 to be made up of only sad things, so we decided to get married in a private ceremony, just the 2 of us. We were married on September 19th 2020 under a beautiful oak tree in Franschhoek. Our big celebration was on April 17th 2021, I feel so lucky I got to marry the love of my life twice, AND I got to wear another wedding dress. (Above are photos of my two beautiful dresses)
I always wanted my wedding day to be perfect, just as much as you do. I have loved weddings all my life, they are just so romantic and as clichéd as it may sound, it is the first day of the rest of your life, and what a day it will be!
I am a 38 year old born and bred Capetonian. I started out in the wedding industry as a Professional Wedding Photographer in 2008. With each wedding that I photographed, I realised how much I loved being a part of my bride and groom's special day, (I also realised how many brides were in way over their heads and completely stressed out) and slowly but surely, I made my move into becoming a Professional Wedding Planner here in Cape Town.
I have been the proud owner of The Mosaic Wedding Company since 2011 and have planned many, many weddings since opening. Pop over to my compliments page to check out some of the happy clients that I have worked with.
I have launched another company with 3 friends, The Hire Haus, it is a beautiful company filled with beautiful hiring items for your wedding or event. I love merging The Mosaic Wedding Company and The Hire Haus when planning a wedding.
If you decide to choose me to plan your wedding, please be assured that the utmost love and affection will go into every thought and moment spent planning YOUR Legendary Day.

A little bit about me 🙂
» I am a sucker for romance and love songs
» My hair colour or hair style changes at least twice a year!
» I would 100% do absolutely anything for my friends.
» I have 14 tattoo's. They all mean something very dear to me and I don't regret any of them. Two of these include my grandparents names.
» I LOVE my family more than anything, and this includes my dog Maya.
» I fully believe in fate and timing – it's how I met my husband, Andy.
» Travelling overseas, sipping on a glass of red wine, reading in the sun & local weekends away are 4 of my favourite past times.
» I am inspired by life in general – positive & real people, laughter, dreaming of the unimaginable, feeling skinny on a fat day and love!
Professional Bio
Cara Lee is a Cape Town based Wedding Planning expert who is inspired by her couples unique love stories. As a young girl she always admired the loving marriage and happiness that her Irish Grandparents shared for 51 beautiful years. Her mission is to work together with her couples to help create an unforgettable day that everyone will talk about for years to come.
She often works with overseas couples and helps them plan not only their wedding day but their entire itinerary, while helping them to experience and enjoy the beauty of Cape Town with her travel partners.
While everyone is being photographed and sipping on champagne, Cara manages the day and everything that happens behind the scenes.
She thinks it's of the utmost importance that couples draw inspiration from other weddings, but that their own wedding still reflects who they are as a couple. With enthusiastic yet organized advice, Cara inspires you to think out-the-box and helps you to bring in a different element of fun and flare to your wedding day.